The Taste of English - Pumpkin Soup or Why We Love Leftovers!
TATIANA SATERNUS •

dawno temu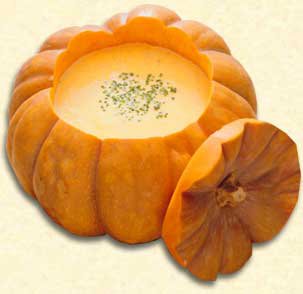 I bet your Jack-o'-lanterns are still baring their teeth at the neighbors walking their dogs around the block, and that you are stuffed full of treats, but I hope you can still find room for some pumpkin seeds and a bowl of delicious pumpkin/PB soup. If you have still got a tad of peanut butter left, and have been wondering what to do with the pumpkin flesh, try roasting the seeds and making surprisingly yummy soup. After all, you don't want to be one of those people who, according to Formby Times Online "could be discarding 8,000 tonnes of perfectly edible pumpkin flesh".
I am very far from telling you to convert to freeganismbut using leftovers can be fun — as you will learn today and in a few weeks, when we talk about Thanksgiving and America's favorite leftover Thanksgiving turkey sandwiches!
Roasting seeds is easy — all you need to do is rinse them under cold water, let dry a bit, then spread thinly over oiled baking paper, sprinkle some salt over them, and roast for about 10 minutes at 325 F (about 170C).
The peanut pumpkin soup recipe is almost as easy, and you will be surprised with its rich taste; a bit of nutmeg will make it a perfect snack for cold November days.
Peanut Pumpkin Soup
4 tbsp. (½ stick) unsalted butter
4 cups leftover cooked and pureed pumpkin
2 cups cooked pureed sweet potato
1 cup smooth peanut butter
6 cups chicken stock
1 tsp ground black pepper
1 tsp salt
snipped fresh chives, for garnish
sour cream, for garnish
DIRECTIONS:
1. Melt butter in a soup pot over medium heat. Stir in the pumpkin, sweet potato & peanut butter.
2. Add the stock, pepper and salt and stir well until smooth. Reduce the heat to simmer and cook for 20 minutes.
3. Before serving, garnish the soup with chives and sour cream.